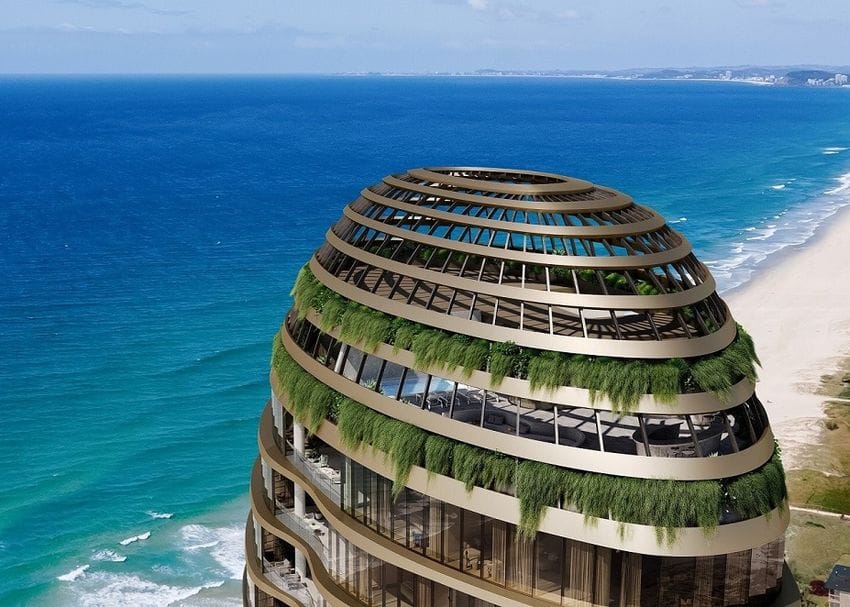 Artist's impression of DD Living's $457 million Royale Gold Coast at Surfers Paradise
TOTAL Property Group, the project marketing company managing sales for two of David Devine's luxury Gold Coast developments and the $1.5 billion Jewel project in Surfers Paradise, has secured a record number of cash deals for apartments across its portfolio.
"In terms of apartment sales, the trend across projects that we sell is that almost 80 per cent of buyers are cash purchasers," says the TOTAL Property Group managing director Adrian Parsons.
"That's something we haven't seen on the Gold Coast at such a volume on any apartment sales, but it's in that premium end of the market that we are seeing these trends evolve."
Parsons says the pace of sales has not let up over the past year, with his project marketing team selling more properties now than it did during the boom conditions of the pandemic.
Apartment sales in the DD Living's two current projects – the $457 million Royale Gold Coast on the Surfers Paradise Beachfront and $400 million Burly Residences at North Burleigh – are among the latest big-ticket cash deals secured by TOTAL Property Group.
Royale, which is 12 months into construction, is 80 per cent sold with remaining apartments for sale from $4.5 million.
The David Devine-led company's newest project, Burly Residences, has just released 30 of 100 planned apartments, with contracts secured for 25 of them at prices ranging from the $2.2 million entry level to $6.4 million.
Parsons describes the Burleigh Heads apartment market among the robust in Australia at present.
"It is triple-A rated Gold Coast real estate, on the beach at Burleigh; it doesn't get any better than that anywhere in the country."
Parsons says the overwhelming majority of cash sales across its luxury projects is being driven by baby boomers aged over 60, although there is still a significant number of buyers aged between 40 and 55.
"Looking at the stats of people buying apartments north of $3 million, the majority are not buying to get a holiday rental return," he says.
"Buyers in the sub-$1.5 million range are more likely looking to drive a return on that investment.
"Once we go into that premium end of the market, buyers are using them for holidays to the Gold Coast or for family members visiting. They are high-net-worth buyers, they are furnishing and setting them up as home base on the Gold Coast for as many weeks of the year they wish to use them."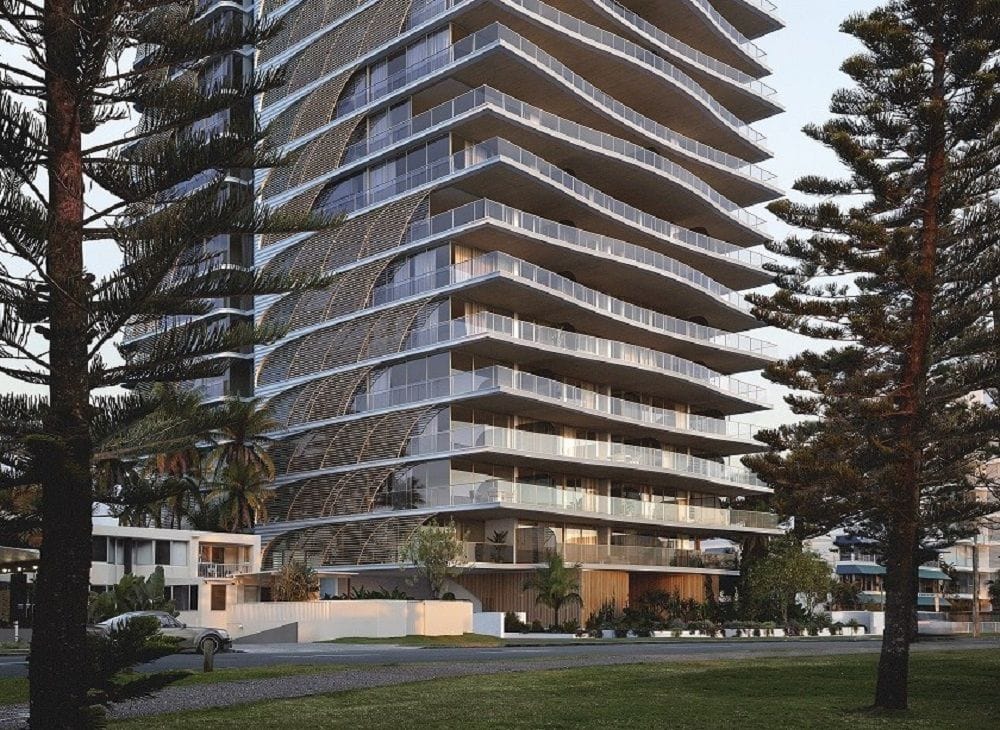 Artist's impression of DD Living's $400 million Burly Residences project at North Burleigh  
The Gold Coast cash splash is also not likely to be the only holiday home owned by these buyers.
"We're noticing a lot of cash and buyers literally may have two or three other properties elsewhere in the world," Parsons says.
"In our premium developments, where apartments are north of $3 million, there's a lot of buyers with residences in two or three other locations.
"Those buyers may have a home in Sydney or Melbourne, but they will buy something here on the Gold Coast or in Queenstown, or they might have something in Europe, such as Italy or France. That's becoming a well-established trend now.
"One of the things that we've noticed at Jewel, for example, is there have been many people staying at The Langham who have decided it's a special spot. They buy an apartment in Jewel, furnish it and come up from Sydney or Melbourne once a month."
Parsons says the scale of cash purchases indicates a significant level of wealth among Australian buyers. In the past, cash buyers at this level were more likely to be from offshore.
"In most of the luxury developments that we sell, a large proportion of buyers are based in Australia. Some of them are ex-pats that have moved back here, but very few, with the exception of some buyers from New Zealand, are from outside of our shores."
Any suggestion that the heat has come out of the luxury property market on the Gold Coast has been also dismissed by Parsons, who notes a slight dip occurred for three months after the fourth or fifth interest rate hike by the Reserve Bank last year.
"After that, we noticed the market stabilise. We are actually selling more property now than we were during COVID and we are selling at higher prices.
"Brand Gold Coast is stronger than ever. We have found that COVID has forever reset the Gold Coast market. The cyclical nature has gone. Demand is largely driven by population growth, the majority of which is coming from southern states, and it is being exacerbated by the lack of new building supply in the market.
"We are seeing very strong sales numbers in all of our projects and what we are hearing from buyers is a lack of choice in the market."
Although completed projects such as Jewel have a distinct advantage in the current market, Parsons says Devine's long association with Hutchinson builders has also helped drive DD Living's current sales run.
"I think buyers have become much more attune to the construction issues that the development industry faces and are aware that many of their projects that are being marketed for sale are unlikely to secure a builder in the future," he says.
"David (Devine) has a very good association with Hutchinson and now 12 months into construction of Royale, we expect to see them coming on board to build Burly Residences in early 2024."
Originally published by Nick Nichols in Business News Australia. View article online HERE.