Brisbane's future commercial property supply has been given boost after the council approved the development application for a $250 million project due to start construction in mid-2020.
Consolidated Properties Group says the 15-level office tower will be the first large scale A-grade commercial building planned for the James Street precinct of Fortitude Valley.
895 Ann Street will deliver 23,222sqm of premium office space, and has been designed by award-winning architects, John Wardle Architects (JWA).
The new tower will be located opposite Consolidated Properties Group's 15-level 900 Ann Street commercial tower, which was also designed by JWA and received numerous awards, including the UDIA Queensland Retail, Commercial Public Use award.
900 Ann Street, which comprises 23,000sqm of commercial space, sold to Charter Hall in 2016 and is tenanted by Australia's largest freight operator, Aurizon, on a 12-year lease.
The company's commercial managing director Kieran Cox says 895 Ann Street will add to the developer's growing workbook of office development in Brisbane.
"895 Ann Street's location in Fortitude Valley offers exceptional accessibility and amenity, and is primed for growth on the back of its increasing appeal with major organisations like Aurizon," he says.
"895 comes at a strategic time in the market cycle, with numerous large scale tenant requirements being sought and limited quality office towers planned.
"We see demand for commercial space, particularly of a premium quality, only continuing to grow in coming years, and are primed to capitalise on this, with an increasing focus on the commercial division of our business."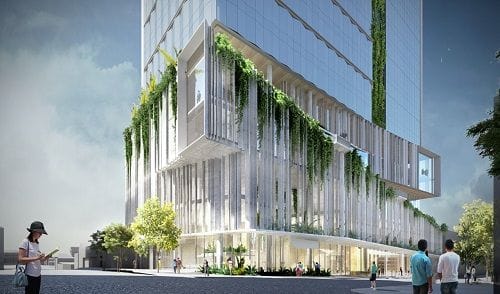 Including this property, Consolidated Properties Group now has a current and forward workbook of about 60,000sqm of commercial space to strategically bring to market in Brisbane.
Cox says this is in line with demand over the coming years and includes 28,000sqm in its new $850 million Yeerongpilly Green mixed-use community.
He notes there has already been significant interest in 895 Ann Street, offered for lease through agents JLL.
Available floorplates range from 1300sqm to 1500sqm, and tenants will have access to a two level basement, comprising a total 103 car spaces, on site.
"The high profile location, with links to some of Brisbane's most popular retail and dining amenity on James Street, along with essential services such as banking, childcare and health is appealing to companies wanting to lure top quality staff," says Cox.
"With the Valley Metro station just 650 metres away, 895 Ann Street will also be easily accessible to staff and customers, which is a major consideration for companies looking for a new base."
JWA principal Stefan Mee says the building has been designed to blur the line between street and lobby, drawing people in and through the project.
"895 Ann St marks a significant opportunity to contribute to an established inner city precinct where developments cleverly combine work and lifestyle in innovative and exciting ways," says Mee.
"Today, work might happen in the foyer, on the steps of an amphitheatre or out on a terrace.
"These changes in working life are catered to through a diversity of spatial environments throughout the podium of the building, giving tenants and visitors much greater freedom."
He says above the street the tower will be a textured façade that folds like a concertina to capture "unexpected and unique views".
"A crafted masonry screen at lower levels beds this building in to the wonderful James Street precinct," he adds.
"Close to the ground, innovative new workplaces, café and wellness uses will strengthen this corner of Ann and Wandoo Streets."
Originally published by Business News Australia here.