There's a memorable exchange in the 1990 rom-com Pretty Woman that likely hit a chord with many a frustrated apartment buyer.
Julia Roberts' character Vivian asks Richard Gere's Edward why, given his fear of heights, he rented the penthouse.
"It's the best," he replies. "I looked all around for penthouses on the first floor, but I can't find one."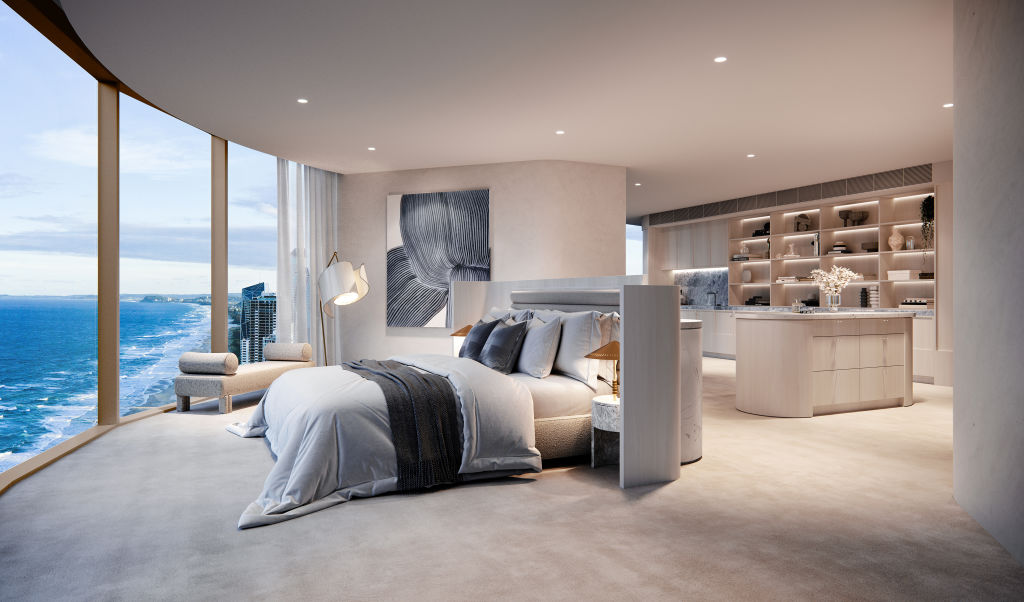 It's been more than 30 years since the blockbuster first screened, but developer David Devine of DD Living is about to deliver a project right up Edwards' alley.
Alongside the typical top-floor penthouses, the recently launched Royale Gold Coast will include a collection of premium apartments on the lower floors for prestige property buyers who prefer the lower levels for beachfront living.
From levels two through to five, Royale will host eight, house-sized luxury apartments of up to 350 square metres each.
Priced from $4.9 million, these premium, lower-level residences are unlike anything available in the Gold Coast's prestige property market, Devine says, and are a limited opportunity in the 38-level building.
Devine is drawing on more than 30 years of experience in residential property development, as well as his own personal preferences in regard to the ultimate in beachfront apartment living, to inspire many of the unique design elements at Royale.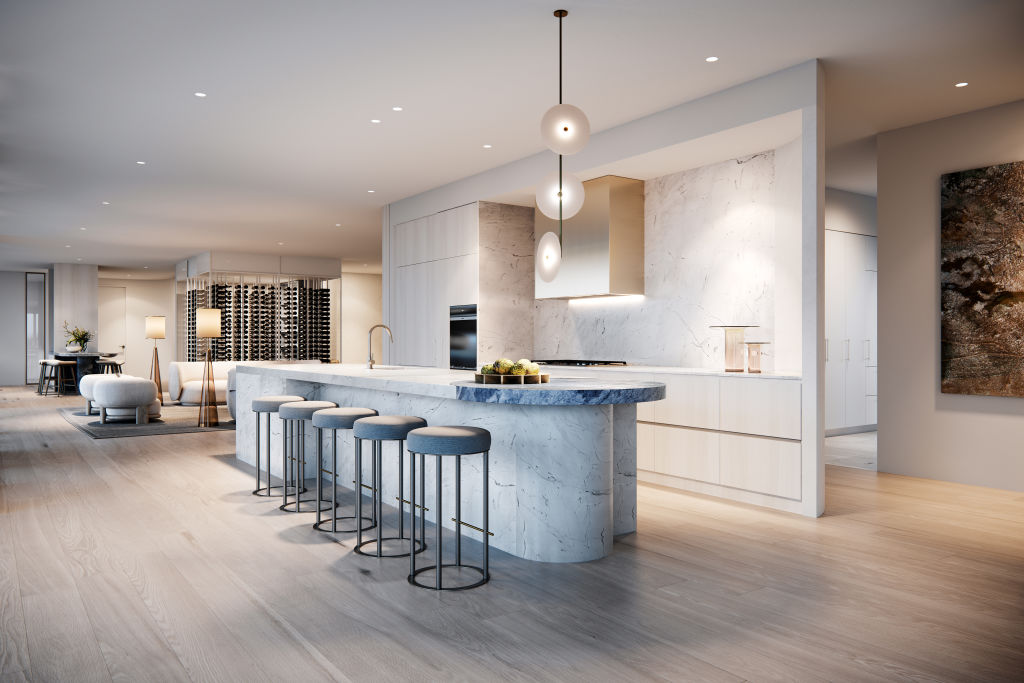 "It's from my own experience that I've come to understand the value of premium, penthouse-sized apartments being on the lower floors when living directly on the beach," Devine says. "While it's nice to enjoy the wide-open ocean views and tranquillity of a sky home or penthouse, there are many people who prefer living on the lower floors to enjoy views of the beach, but still want to live in a premium, sub-penthouse-style apartment."
Devine worked with DKO Architecture to design the apartments, which feature large entertainer's balconies or loggias that blur the distinction between indoor and outdoor living and provide all-weather entertaining spaces.
"Walking into these apartments with their striking open floor plans framing panoramic views of Northcliffe Beach will take anyone's breath away," Devine says.
For those with no fear of heights and a penchant for sky-high luxury living, the top nine floors of Royale will be dedicated to a penthouse collection comprising two full-floor and 10 half-floor residences, plus a double-storey penthouse inclusive of a private rooftop terrace with bar and pool.
Interior designer Mim Design has combined marble and timber finishes with uniquely detailed joinery and the penthouses will include large balconies and butler's pantries. With up to five bedrooms each, all with en suites, there's the option to customise the penthouse floor plans by adding wine rooms, media rooms or office spaces, or by selecting fittings.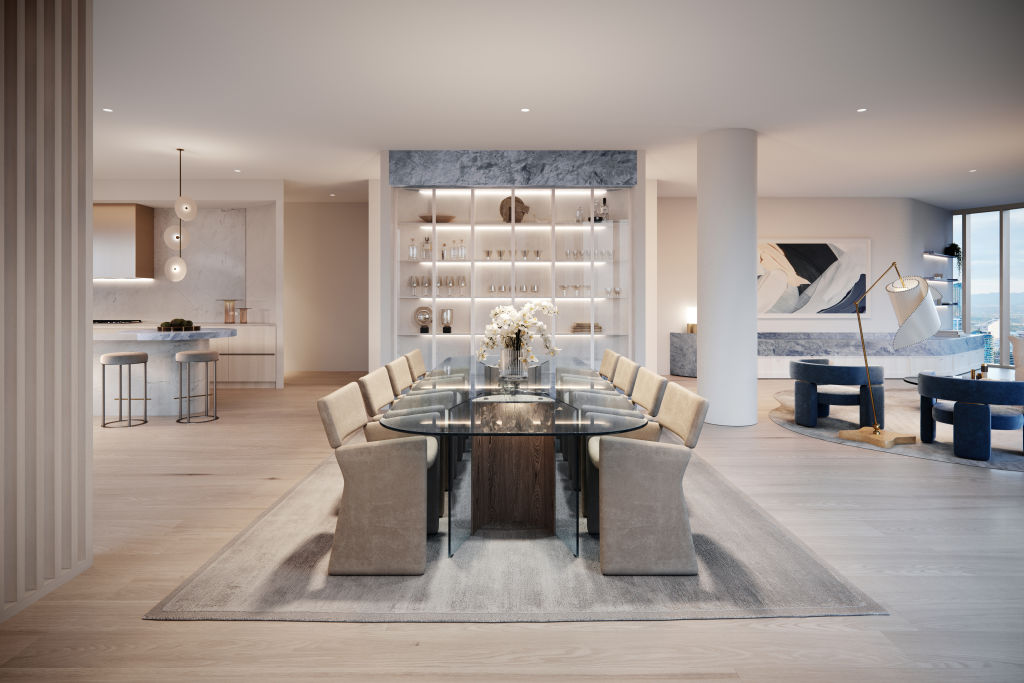 Royale is equally impressive from the outside. A series of pearlescent gold bands along the facade vary in thickness based on the layout of the apartments behind, thinning out in the main living areas and thickening where there are balconies and sleeping zones. The project draws inspiration from the local pandanus palm, which features prominently on the site and in the surrounding area.
"Royale's simple oval shape faces towards the ocean, inspired by the pandanus palm," says DKO Architecture principal and founding partner Koos de Keijzer. "The beautiful feet that touch the sand, the undulating patterned trunk that folds back from the beach, and the domed green head of leaves above."
Devine says Royale will enjoy a north-easterly aspect to capture the best ocean and beach views and to protect apartments from the prevailing south-easterly winds.
"We set a goal to create the best upmarket building on the coast and Royale is the wonderful result from our talented design team who took inspiration from some of the world's most sophisticated and stylish private residences and our beautiful coastline to create this special building," he says.
Royale will offer residents a concierge service and world-class amenities, from the Royale Beach Club, with its two separate swimming pools, cabanas and day lounges on the elevated ground floor, to the Royale Wellness Centre with its state-of-the-art gymnasium, spa, sauna and steam room.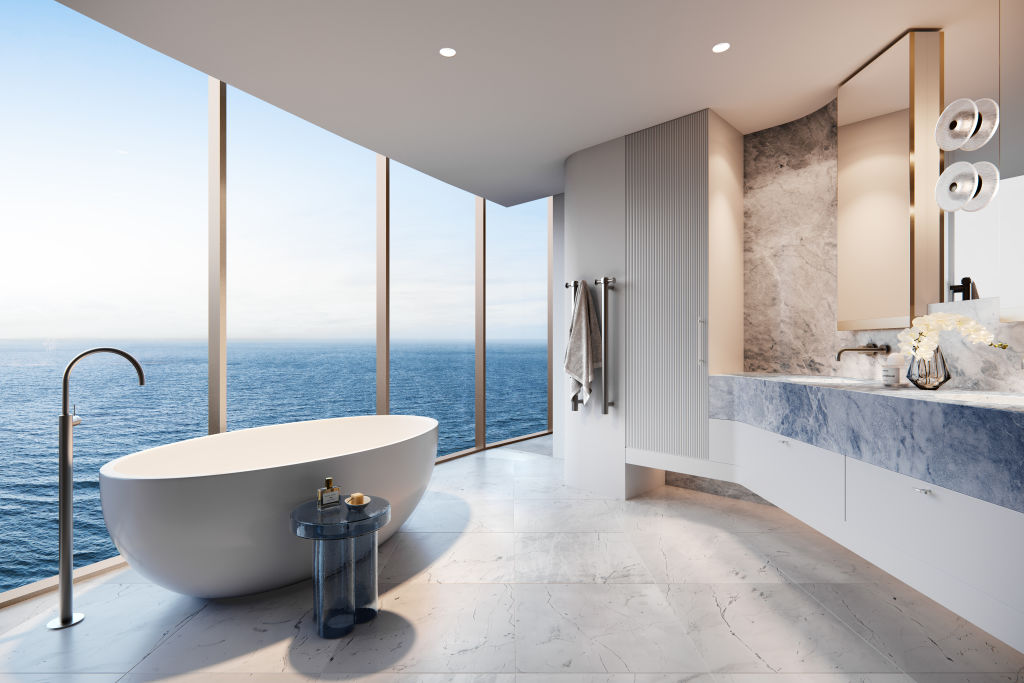 There will also be an exclusive residents' club, Club Royale, on level one, featuring an executive lounge, a bar, whiskey and wine lockers, a private dining room and a commercial kitchen for caterers.
Buyers can expect a five-star experience at the new Royale sales display suite, which opened in December on the ground floor of the existing tower at 9 Northcliffe Avenue, Surfers Paradise, the site of the future development.
Interested parties will be given a private tour of the proposed development, from the panoramic views and ground-level terrace to the interior design and details of the extensive resort-like amenities.
A 1:100-scale architectural model shows the striking tower with its champagne-coloured glazing, while interactive walkthrough experiences give potential residents the opportunity to walk through apartments to gain a better understanding of what living at Royale would be like.
Devine says he's pleased Royale's sales team can show potential purchasers the high-quality craftsmanship planned for Royale and the "incredibly rare" location at the new on-site sales suite.
"I'm very excited about revealing all the extensive design work we have put into Royale to create these ultra-luxurious apartments," he says. "The sales suite experience will show potential purchasers that Royale is truly in touch with the beach and the way it seamlessly blends classy coastal luxury with sophistication and prestige."
Devine says the architect and interior designer worked closely with his team to produce such a high-quality experience for potential buyers.
"It's been a true team effort, with our sales and development teams working alongside DKO Architecture and Mim Design to design a prestige sales suite that showcases how special Royale is, and of which I am incredibly proud," he says.
Originally published in Domain HERE.