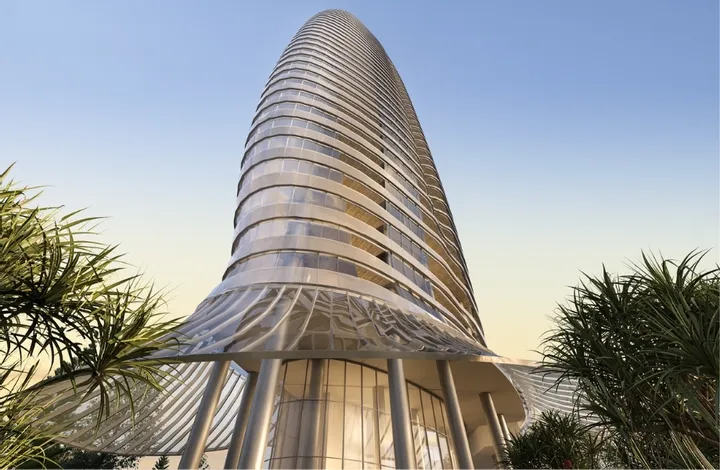 Devine Development Group is planning to build a 38-storey golden tower on a beachfront site in Surfers Paradise after picking up the site with previously approved plans.
The $340-million development includes 108 apartments with an average price point of $3 million for the site at 7-9 Northcliffe Terrace.
It will be Devine's second Gold Coast tower, adding to its long-held plans for Alba Residences in north Burleigh.
Devine bought the 2251sq m Surfers Paradise site, with a 2017 development approval, for $45 million from Macroland Developments.
According to the extension application, the original developer had delayed the project due to the pandemic.
"The reason for the request is likely to be similar to that of other developers seeking such endorsement as a result of economic conditions and uncertainty in the marketplace regarding costs, supply, demand and forecast revenue," the application stated.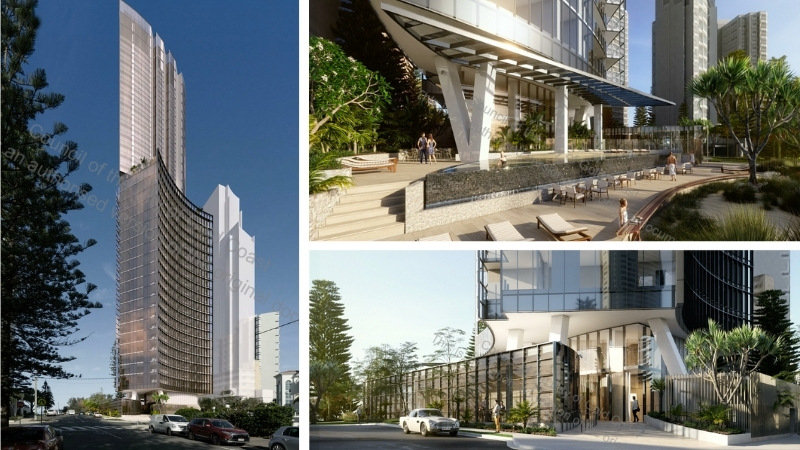 The Gold Coast property sector defied the pandemic downturn and became one of the strongest markets in the country with apartment sales surging 97 per cent in the first quarter on 2021 and extremely tight vacancy rates.
The site, currently home to the Surfers Royale hotel, is 300m from Alceon and Sammut's 35-storey Coast development for 49 apartments.
The new application for the tower, to be called Royale Gold Coast, was designed by DKO Architecture while Mim Design has been appointed for the interior design.
Devine chief executive David Devine said his team had been looking for an ultra-premium site for some time.
"The vision for Royale Gold Coast is a landmark building of high distinction, with premium residential apartments that will redefine luxury absolute beachfront living," Devine said.
Total Property Group managing director Adrian Parsons said they were marketing the apartments to a new profile of buyers.
"There has been a big shift in the market with people now having the flexibility to work remotely, giving them the freedom to choose where they live," Parsons said.
"The prestige apartment market in south-east Queensland, and in particular the Gold Coast, is buzzing with buyers from Sydney, Melbourne and Brisbane looking for lifestyle opportunities to either relocate or enjoy as a holiday home on the Gold Coast."
The Royale Gold Coast would have two-, three- and four-bedroom apartments along with "sky homes" and penthouses.
A concierge, wellness centre, gym, treatment rooms, cinema, library, executive lounge, bar, whiskey locker, three pools and a commercial kitchen for caterers are also part of the plans.
Originally published HERE by Renee Mckeown on The Urban Developer.